Safety Thermostats to Prevent Overtemp Available on Many Models
Temperature control is the most important factor in the use of Evans Stripcoat. We recommend heated thermostatically controlled melting equipment. Special sizes available upon request.
Download Operating Instructions »
Round Dip Coating Pots
Cast aluminum round dip pots are thermostatically controlled and assure even heat distribution. They are available in various sizes with capacities from one pint to one hundred gallons. Replaceable heating elements are available. Different temperature ranges are also available.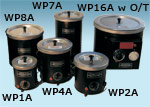 Aluminum Rectangular Melting Tanks
The shape of the object to be dipped determines whether a round or rectangular tank is best suited for the job. Heavy cast aluminum assures even heat distribution and eliminates localized hot spots.
Melting Equipment - Round Cast Aluminum (A) Pots
Ship Wt
Model lb Cap
Approx Liquid Cap
Inside
Overall
Voltage
Watts
Width
Depth
Width
Depth
115
220-1
220-3
440-3
5#
WP1A
1 Pint
400
3.5"
3"
5.5"
6.5"
X
X
n/a
n/a
8#
WP2A
1 Quart
600
5
3.5
7
6.5
X
X
n/a
n/a
9#
WP4A
2 Quart
600
5.5
5
8
8.5
X
X
n/a
n/a
13#
WP7A
3.5 Quart
1000
6
8
8
11
X
X
n/a
n/a
20#
WP8A
1 Gallon
900
8
5.5
9
10
X
X
n/a
n/a
30#
WP12A
1.5 Gallon
1000
6
12
10
14
X
X
n/a
n/a
30#
WP16A**
2 Gallon
2000
10.5
6
13
9.5
X
X
n/a
n/a
107#
WP40A*
5 Gallon
4400
12
12
16
18
n/a
X
X
X
145#
WP80A*
10 Gallon
6600
14
15
19
21
n/a
X
X
X
205#
WP160A*
20 Gallon
7700
20
15
25
21
n/a
X
X
X
255#
WP200A*
25 Gallon
8500
19
24
24
28
n/a
X
X
X
Melting Equipment - Rectangular Dipping Tanks
Ship Wt
Model lb Cap
Approx Liquid Cap
Inside
Overall
Voltage
Watts
Width
Length
Depth
Width
Length
Depth
115
220-1
220-3
440-3
14#
RWP1
1 Quart
600
4"
4"
2"
9"
9
5"
X
X
n/a
n/a
15#
RWP2
2 Quart
1200
4
8
2
9
13
5
X
X
n/a
n/a
27#
RWP3
3 Quart
1000
4
12
2
9
17
5
X
X
n/a
n/a
24#
RWP486
4 Quart
1200
4
8
6
8
12
9
X
X
n/a
n/a
40#
RWP4
6 Quart
1500
6
12
4
11
17
7
X
X
n/a
n/a
34#
RWP5
6 Quart
1200
4
20
4
9
28
8
X
n/a
n/a
n/a
36#
RH20X4X4
6 Quart
1200
4
20
4
13
25
11
X
n/a
n/a
n/a
59#
RWP6*
15 Quart
3150
6
18
8
10
22
13
n/a
X
X
X
59#
RWP6-7-1*
15 Quart
2325
6
18
8
10
22
13
X
n/a
n/a
n/a
77#
RWP6366*
22 Quart
2400
6
36
6
14
46
12
X
X
n/a
n/a
95#
RWP101612*
34 Quart
3600
10
16
12
14
30
14
n/a
X
X
n/a
Melting Equipment – Plugs
* safety thermostats now standard on these models
** safety thermostats optional on these models